Dear fellow SG Crawlers,
one thing that I miss from our activities is the artistic side. Sure, we have tons of fantastic, Hollywood-quality movies, and many of us make photos that make Adam Ansel look amateurish.

But there must be more that can be done with RC.
So Patrick and I set out to create this "installation":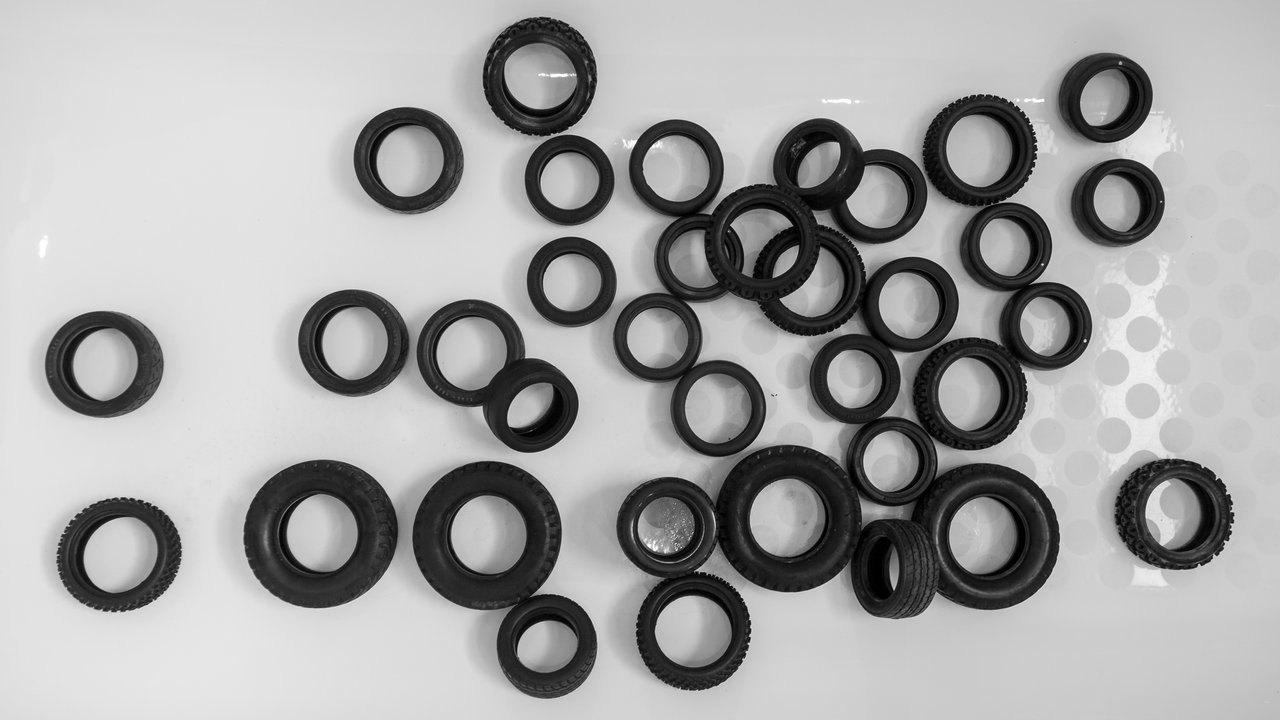 We haven't given it a name yet, please feel free to suggest

Ok, seriously now

My arms hurt, my fingers are full of CA, but I have them all glued up: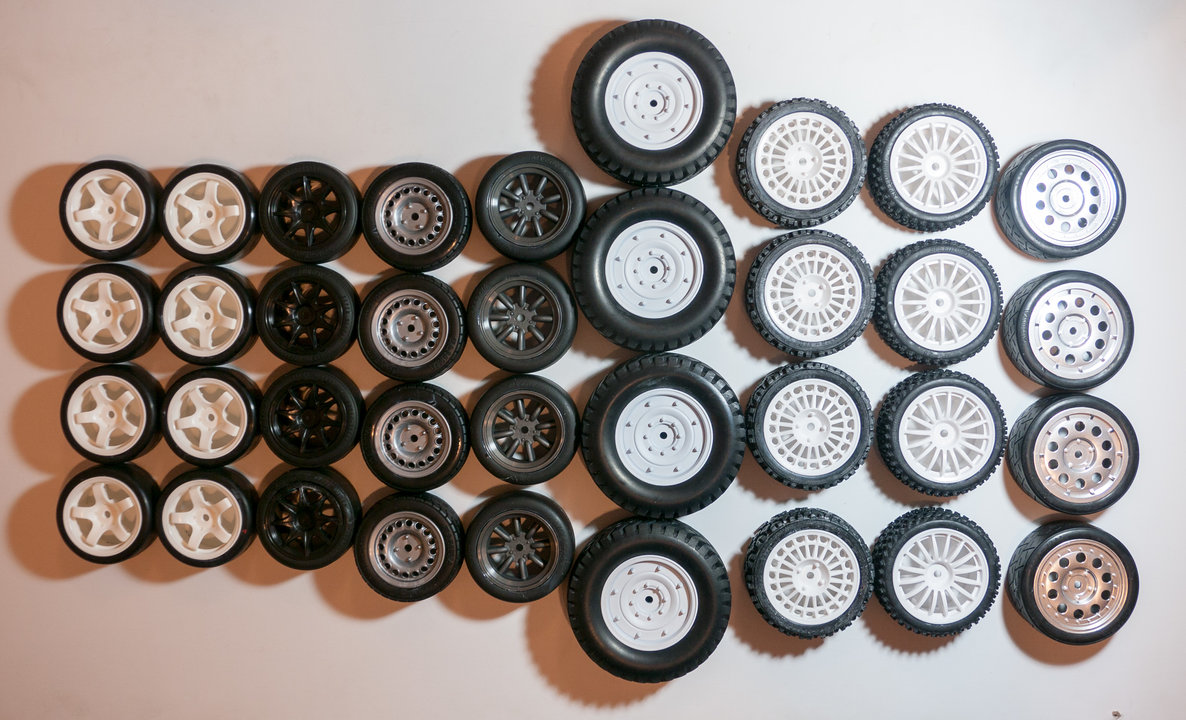 9 sets of tires for our fleet. From left to right:
Sweep 25 deg slicks for Mini rear

Sweep 33 slicks deg for Mini front

Tamiya Super slicks on cheap Yeah Racing rims for Mini

Tamiya Radial Medium and S-Grip on the Alfa rims for the M-06

HPI Cup Racer slicks and rims (notice that they are slightly larger than the Tamiya mini!)

M-1025 Hummer tires

Taimya Rally Block on original old Lancia Delta Integrale rims for my DF03Ra

Speed Mind R28 Rally Block on Lancia Delta Integrale rims that came with the DF03Ra kit

Some 12 year old Touring car rims and tires

That's enough tire gluing for now...

Actually this is the best I've ever managed to achieve. A few mistakes here and there, but in general most turned out really nice. This time I used the ultra thin glueing nozzles for the CA glue bottle. This makes a hole lot of difference where you get the glue, and how much you apply.
Interestingly every tire needed a different strategy to pull back to apply the glue. The soft mini slicks were the easiest to do as they bend easily. The Rally Block tires where quite painful, and the low profile touring tires were the most difficult to push away.
Excuse me now while I go down to the park and test out the new M-05 tires

Crawler




Posts

: 877


Join date

: 2012-05-21



now i know who to pass the tires to for gluing!


_________________
My Blogs: MyHoncho Blog | Boolean21 RC Blog
Youtube: SGCrawlers RC Channel | BooleanRC Video Channel
Facebook: SGCrawlers FB Page  | Boolean21 FB Page
Instagram: http://instagram.com/SGCrawlers
Twitter: http://twitter.com/SGCrawlers
Crawler




Posts

: 5032


Join date

: 2011-08-18


Location

: Deep inside the Jungle



boolean21 wrote:now i know who to pass the tires to for gluing!
X2!!! My Ken Block tyres need replacing. Wonder what method you would use to remove worn rubbers from the wheels? Boiling in hot water??
Crawler




Posts

: 1666


Join date

: 2011-08-22





Similar topics
---
Permissions in this forum:
You
cannot
reply to topics in this forum