I bought a Miniqlo MOA and had fun playing with it for couple of week, but my kids kept on chasing the mini crawler and broke it. Should be an easy fix but too lazy, the following items has been lying unused ever since.
Pic of items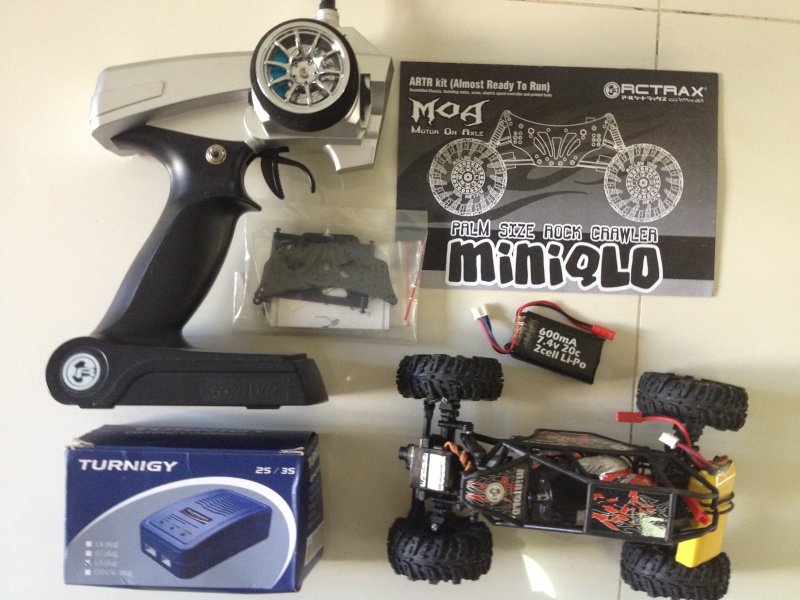 1. RC4WD XR4 4 Channel 2.4 GHz Transmitter & Receiver. Fully functional. (New is 90 USD) http://store.rc4wd.com/XR4-4-Channel-24Ghz-TransmitterReceiver-Radio_p_676.html
2. Turnigy 2s 3s Balance Charger. Fully functional. (New is 12 USD) http://www.hobbyking.com/hobbyking/store/__8247__turnigy_2s_3s_balance_charger_direct_110_240v_input.html?gclid=CPOSuaPz-bsCFY6u4godKkQAsA
3. Miniqlo MOA . Doesn't run anymore and missing 1 shockbreaker. But the servo/ esc/ rx/ tires etc are still great. You can get it fixed at your local hobby shop. Good if you have a miniqlo MOA and is looking for parts. (New is 160 USD) http://www.rcmart.com/rctrax-miniqlomoa-motoronaxle-plam-size-rock-crawler-artr-p-32607.html
4. 2 ea of Battery (600mAh, 2s, 20c) -> Throw this for free
All cost 252 USD = 317 SGD.
Start bid at 120 SGD, cheap since the MOA I consider sell for parts only. Serious buyer can whatsapp to 8 4 nine nine nine 3 7 nine. Bid closes 1 wk from now or if someone offer me 150 SGD. Deal at Braddel MRT.
Crawler




Posts

: 1


Join date

: 2012-06-18




---
Permissions in this forum:
You
cannot
reply to topics in this forum