More than 25 years after my last RC (a buggy) I'm back to the hobby here in Singapore with an Axial Jeep Rubicon (coming soon). This is thanks to your amazing videos 

 .
I'm not stranger to off-road as I have back in Kuching, Sarawak a LandCruiser MKII powered by a 1JZ engine (2L Turbo 280hp). But here in Singapore I miss the thrill of off-road although I ridded for 2 years with the local enduro riders.
Your videos are really cool, it is sometime difficult to tell if it is real size or scale models so realistically detailed your models are! Only the bouncing and the size of the leaves or the tree roots betray the scale of those models!
I'm not stranger to modeling as well as I have a large collection of N model trains, all DCC.
So as soon as my rig arrives (should be within 2 weeks) I'm looking forward to meeting you and put those little tires in the local mud!
By the way Tower Hobbies has a month of coupons until end of February giving a nice discount by slice of 100$.
See you soon  

Olivier
Crawler




Posts

: 82


Join date

: 2012-12-03




 "May the force be with you."
Crawler




Posts

: 2376


Join date

: 2011-08-22


Age

: 46


Location

: Hougang



Welcome to SGcrawlers! Can post some of your N model train collection?
Let me compile some of the pics I have. My network is not decorated I moved to many times to have time to do one. But I have a pic of almost all of my locomotives and stocks.
PS: Your Camel Trophy 110 is really cool!
A small sample of my locos, all N scale which means that they are in fact close to 8 to 15cms long depending of the model. Most are equipped with DCC decoders, the size of the module of a SIM card module. I have about 20 to 25 of them, many are still in my home if France. DCC is a digital control system where the signal uses the rail to be transmitted to the locos, making it possible to operate as many as you want on a railway, using a control station or a computer.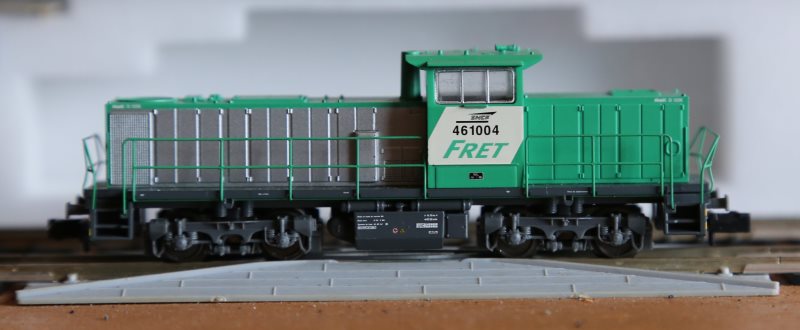 I'll post some more later.
Expecting to get the Jeep in a few days as it already arrived in Singapore. Configuration close to my MKII with Simex Centipede 35", but 1/10th the scale...
Wow....nice. Wanted to get a starter kit some 10 years ago.... but did not. Nowdays its very expensive to get a set.

Looking forward to see you joining the SGcrawlers on their weekly trail.
My rig is there. Just did some settings on the standard like reinforcing the suspension links while waiting for some aluminium parts and tires from AMainHobbies.

I moved the battery to the front which is really changing the way this Jeep climbs obstacles, simply wondering why Axial didn't do that setting from factory.

Hope you're going this week-end, the small park near my place becoming too small...

Yes, trains are very expensive specially N scale locs, but US has been a major provider for me as well as ebay for used items. Some steamer loc from Minitrix or Fleshmann can cost more than 200euro with the DCC decoder, but US rigs are way cheaper more like 100 - 150$, and stocks are very cheap (20-30$).
There will be a trail this weekend, stay tune for the location.
Weather is particularly hot, do bring water.
_________________
Moderator




Posts

: 1212


Join date

: 2012-03-21


Location

: N1°24.229' E103°48.094



Axial product is very versatile. You have the option to mount the batt at the front or back depending on your prefered trail. With the batt up front the weight had gone to the front wheel thus climbing performance increase. Some added weight to have this effect as you need balance. If you climb u need to decend too. So its up to individual to balance out. But not easy looking at the places we trail.... every trail has its challenges. The best if you can get the batt mounted low and as centre as possible to get a good Centre of gravity. There are other factors too like the type of scale body or diff transmisson used.... theres a whole lot of mod you can do.

Singapore has a shop selling model trains too but they do not have a shop front and visiting is by appointment made. Too bad i have given up on Trains....

Do look out for this coming trail on Sunday.


Similar topics
---
Permissions in this forum:
You
cannot
reply to topics in this forum