Who is online?
In total there are
2
users online :: 0 Registered, 0 Hidden and 2 Guests
None
Most users ever online was
57
on Fri 23 Sep 2016 - 12:58
Most active topic starters
June 2019
| Mon | Tue | Wed | Thu | Fri | Sat | Sun |
| --- | --- | --- | --- | --- | --- | --- |
| | | | | | 1 | 2 |
| 3 | 4 | 5 | 6 | 7 | 8 | 9 |
| 10 | 11 | 12 | 13 | 14 | 15 | 16 |
| 17 | 18 | 19 | 20 | 21 | 22 | 23 |
| 24 | 25 | 26 | 27 | 28 | 29 | 30 |
Calendar

Google+

As I have never built a RC Card before and my painting skills are very poor  

 , I bought the SCX10 Jeep RTR which came with the radio, a 7.2v/3000mAh battery. Basically I just took it out and tried under the trees near my place!
Having been driving 1:1 4WD in extreme conditions I have a slight idea of how a car react when tackling obstacles. This little 1:10 models are quite realistic in their behavior, of course the power ratio is a lot in favor of a model, although my car has close to 280 Hp it cannot jump like the jeep does on the obstacles.
So I realized very quickly that something was wrong with the 1:10 model and it was the rear suspension link which couldn't handle the 'power' of the electric motor combined to the grip on rocks or when the car is kind of stuck.
The plastic links are kind of ridiculously soft and they bend like hell! I have ordered a set of aluminium links but it will take some time to get them. So I tried to find a quick and cheap DIY solution.
To reinforce those links you'd need to add to the original one something that can give them some rigidity (unless you can machine new ones). I searched around me what could be used, something plastic, tubular or semi-tubular and I found the simplest thing you can imagine: an erasable marker!
So in order to do this great improvement you will need: 2 markers and 6 cable ties.
1 - Cut the body of the marker in 2 pieces.

2 - The way the standard plastic link bends.
3 - A reinforced rear link using the marker body and 3 cable ties.
I also noticed that the steering rod also bends a lot. This also happens very often on the real cars and you ends up repairing somewhere in  the middle of the jungle...
I applied the same technique to the steering rod to give it a bit more of rigidity and it works pretty fine as well. You will have to adjust the half-body of the marker, so it doesn't touch the command of the steering.
4: A reinforced steering rode.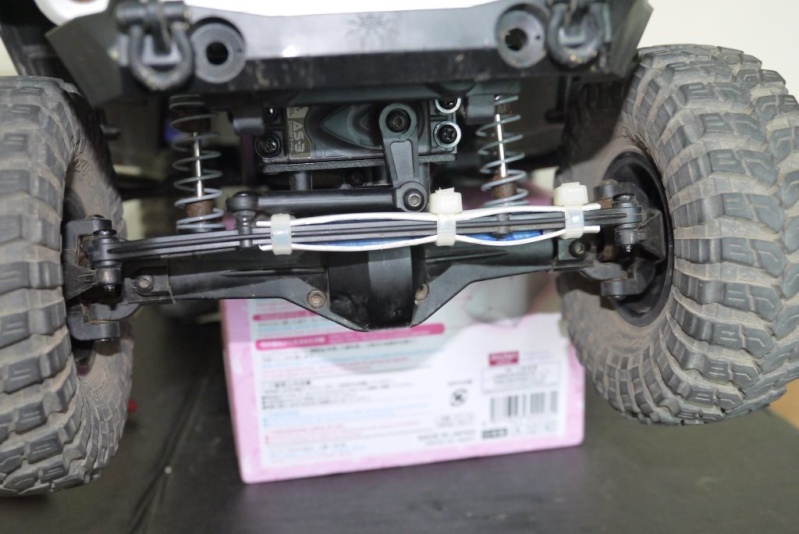 This doesn't replace the aluminium links and steering, but it surely helps until you can get some!
Next modifications I need to do are
:
 Waterproof the electronic. It's kind of weird that they sell and off-road car which components cannot stand water  

. But rock crawling terrain is usually dry, which is not the case of the mini rain-forest of Singapore.
 Move the battery to the front. Just tried without moving the battery holder and there is a huge difference on climbing obstacles.
I went near my place in a park to test the links reinforcement. It is working fine, not really "scale" look but until I get the aluminium links it makes the car really usable. With those two improvements the handling is much better, the grip is more balanced between rear and back, and as there is less deformation of the rear drive train the car doesn't bounce on the obstacle like it did with the stock RTR. Later I may change the shocks and put mud tires probably a set of Mud Slingers.
Few pics of the test drive...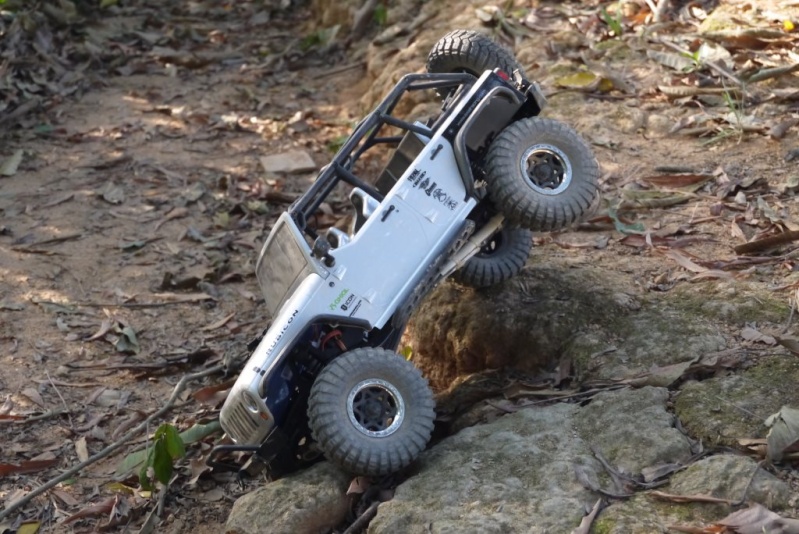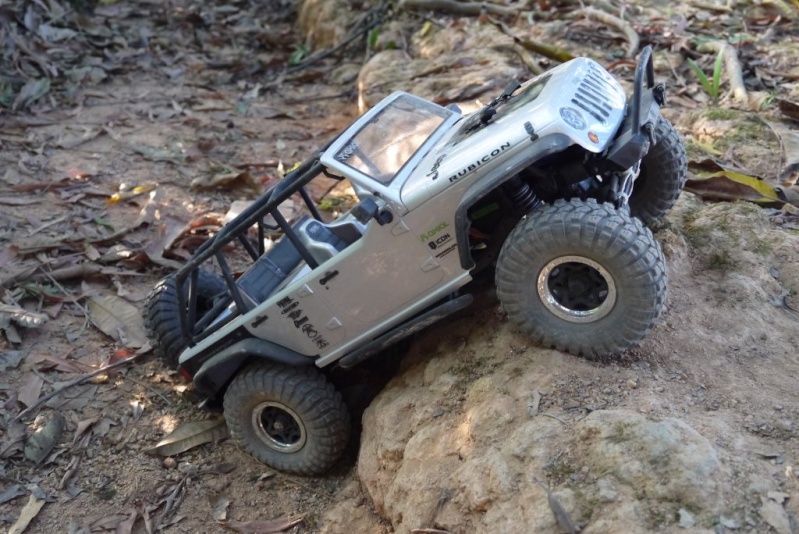 Last edited by orouit on Sun 23 Feb 2014 - 19:20; edited 1 time in total (Reason for editing : Adding some text and few pictures)
Crawler




Posts

: 29


Join date

: 2014-02-05



Thanks for sharing...
Join in the trails soon!


_________________
My Blogs: MyHoncho Blog | Boolean21 RC Blog
Youtube: SGCrawlers RC Channel | BooleanRC Video Channel
Facebook: SGCrawlers FB Page  | Boolean21 FB Page
Instagram: http://instagram.com/SGCrawlers
Twitter: http://twitter.com/SGCrawlers
Crawler




Posts

: 5033


Join date

: 2011-08-18


Location

: Deep inside the Jungle



That's my intention! Your videos were the trigger to buy this rig.  

Before joining I needed to test drive a little bit, by experience I know that when going off-road (car or bike) there is always something that goes wrong the first time. Screws that need to be re-tightened, details that need to be improved. And as expected few stuff went wrong!
Hopefully if you go to a trail next week-end, I'll join you.
Crawler




Posts

: 29


Join date

: 2014-02-05



look out in the forum for the details of the next meet up.

looking forward to see your rig in action!


_________________
My Blogs: MyHoncho Blog | Boolean21 RC Blog
Youtube: SGCrawlers RC Channel | BooleanRC Video Channel
Facebook: SGCrawlers FB Page  | Boolean21 FB Page
Instagram: http://instagram.com/SGCrawlers
Twitter: http://twitter.com/SGCrawlers
Crawler




Posts

: 5033


Join date

: 2011-08-18


Location

: Deep inside the Jungle





Similar topics
---
Permissions in this forum:
You
cannot
reply to topics in this forum