Hi laneboysrc,
Need your advise and confimation on hooking up direct 7.4V to servo.
Is the image sketch correct? Should I connect the GND of servo to the ESC out or Rx out?
Thanks!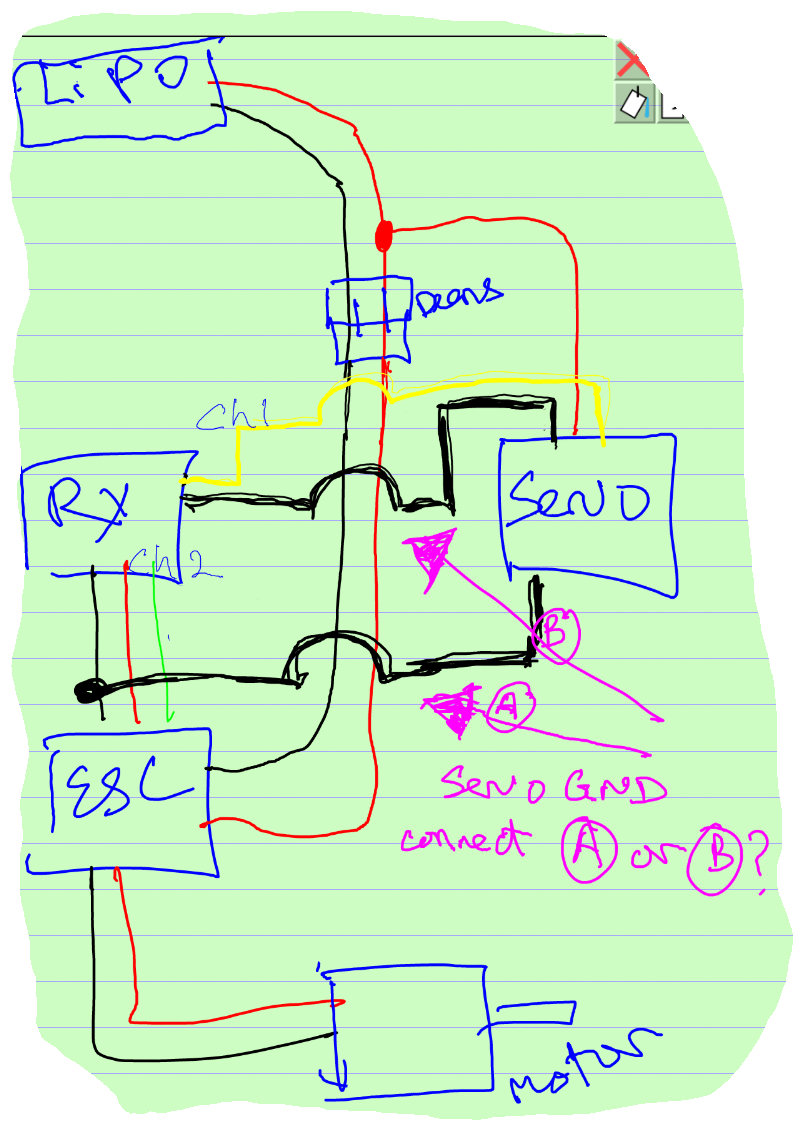 Hi!
The diagram is basically correct, but can be improved.
In theory you could connect the ground wire (black or brown) from the servo to either A or B, but your original connection A is not preferred as it would require you to hack up the servo wire from the ESC to the receiver.
So either use connection B, or you can also connect it to the black wire coming from the battery. Then you would run 2 wires from the servo to the battery, and one to the receiver.
See changed drawing attached. Personally I would go for A since you need to splice up the servo cable anyway. But it all depends where the items are located and how easy it is to do the soldering.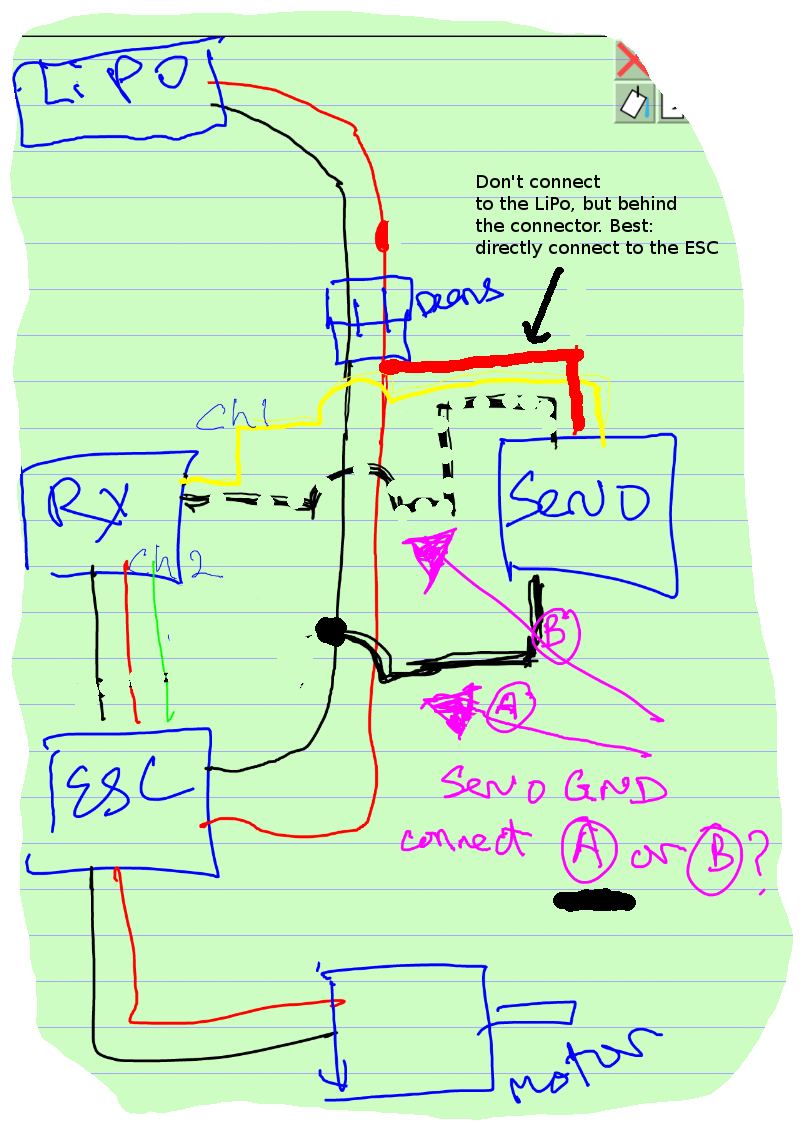 OK bro,
I got it. So basically leave the other connections as is, but red power and black ground connected such that esc and servo is in parallel across the lipo out. Only leave signal wire of Rx to servo intact.. Thanks! Will hook it up this week..  

Ok quick update,
Connected with DIY Y-Cable+Deans connectors to connect servos in parallel to ESC across the Lipos. Working fine.  

 Thx Werner.
Tried 3 more alternative that doesn't work;  

1. Direct attach servo to Rx as normal connection. Glitchy motors when HV servo is in operation.
2. Use separate batts for servo and retaining signal from receiver. Totally no response from servo even checked voltage into servos was around 7.5V.
3. Attached separate battery to receiver free channel. Glitchy operation. Probably due to Rx is 6Vmax rating but batts into free channel is 7.5V Lipos.
Anyone knows of alternate receiver compatible with Axial transmitters? Other methods might be able to work if receivers were rated up to 7.5V.
Glitchy operation usually means that the high current draw from the servo causes the voltage to drop. For example the over current protection of the BEC may be triggered, causing a temporary drop in voltage.

Separate batteries: For this to work you must connect both ground (black) wires of the batteries together. Then it should work fine.

Do not put more than 6V in the receiver, the voltage regulator in there may get permanently damaged.
I think the Axial receiver is a OEM FlySky receiver. HobbyKing has a cheap alternative one, but also only up to 6V.

The receiver is actually a bit special as it has a built-in "boost converter" for 1S direct operation (from what I can see in the circuit, there is not spec about that)

I can modify the receiver for you by changing the voltage regulator and a capacitor, and taking out the boost circuitry. The mod will allow you to directly put up to 10V max into the receiver, i.e. directly use it with a 2S LiPo. Disclaimer: I've done this mod successfully with several HobbyKing XR3000 receivers, but not yet with FlySky; so there is a (low) risk.

 10v into receiver sounds great ! No more worries about using lipo on esc without bec.
Crawler




Posts

: 2376


Join date

: 2011-08-22


Age

: 46


Location

: Hougang



RTECH wrote:

 10v into receiver sounds great ! No more worries about using lipo on esc without bec.
Indeed! Not only is it useful for HV servos, but also when you have old Tamiya ESC like the TEU-101BK or TEU-104BK without BEC. I run such setup on our M05, M06 and Cup Racer.
Better change a $0.20 voltage regulator than throwing away a mediocre ESC

I'd be happy to do the mod for locals. No cost involved, but your risk if I blow up the receiver  

Awesome gesture from our electronics guru!




_________________
My Blogs: MyHoncho Blog | Boolean21 RC Blog
Youtube: SGCrawlers RC Channel | BooleanRC Video Channel
Facebook: SGCrawlers FB Page  | Boolean21 FB Page
Instagram: http://instagram.com/SGCrawlers
Twitter: http://twitter.com/SGCrawlers
Crawler




Posts

: 5027


Join date

: 2011-08-18


Location

: Deep inside the Jungle



Thanks werner,
Sounds good to try. But let me look-up and find and stock up on the compatible receivers first as you suggested from Hobbyking before meddling with the existing ones.. hehe.
Very good educational thread here  



Similar topics
---
Permissions in this forum:
You
cannot
reply to topics in this forum