Hi Guys,
I am new to the hobby and does not have enough knowledge on electronics. I do have an RR10 Bomber ESC AE5 with these type of connector.
And have 2 batteries (not the LiPo) with charger. The connectors are match.
Question, as I have problem or trouble plug-In the two connectors together "ESC AE5 & Battery" as they are different.
1. Can I modify the battery & charger connector to suit the ESC AE5 connector?
2. What do you call the other half of the ESC AE5 connector?
3. Where can I go to let it changed?
Appreciate any information/suggestions.
Thank you,
Wehlee
Last edited by boolean21 on Thu 17 Mar 2016 - 21:38; edited 1 time in total (Reason for editing : Edit: Embedded photo for you.)
Crawler




Posts

: 3


Join date

: 2016-02-25


Age

: 46


Location

: Tanglin Halt



Hi,
somehow your photos do not show up, so it is difficult to give a correct reply.
According to Axial, the AE5 comes with a Tamiya-style connector (white color). This connector is pretty rubbish by today's standard, but works for a trail/crawler.
Your batteries could be Deans (usually red) or XT60 (yellow usually), see photo below for various types: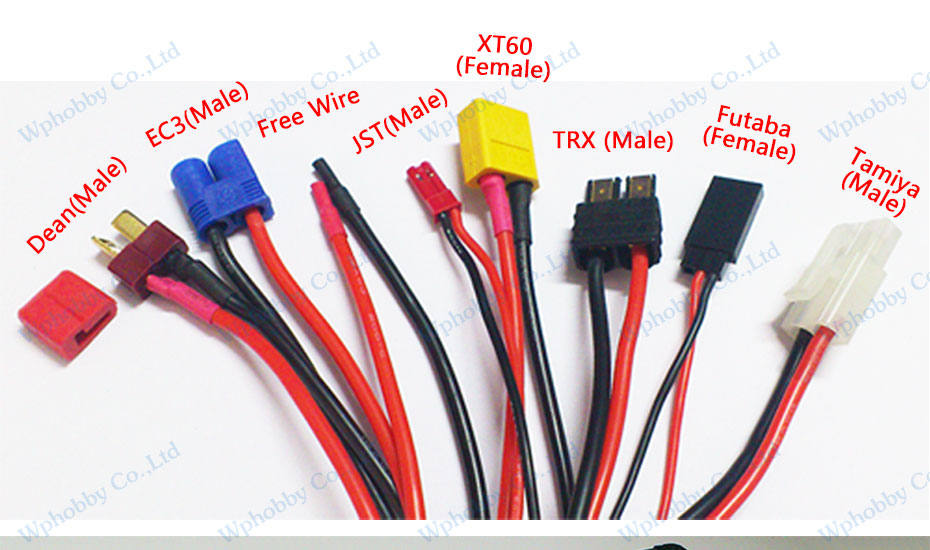 If you have Deans or XT60 I would recommend changing the ESC to a matching one. XT60 is quite good, Deans is ok but 2nd choice compared to the more modern XT60.
Small RC shops usually provide soldering services to change connectors.
If you don't mind traveling to Woodlands evenings or weekends I can also help you. Shoot me a PM.
cheers, Werner
Crawler




Posts

: 877


Join date

: 2012-05-21



and here's the link for the T-connectors / Deans from hobbyking
http://www.hobbyking.com/hobbyking/store/__11961__Nylon_T_Connectors_10_Pairs_20pc_.html
and the xt60 connectors
http://www.hobbyking.com/hobbyking/store/__9572__Nylon_XT60_Connectors_Male_Female_5_pairs_GENUINE.html
and bro Werner has amazing soldering skills....





_________________
My Blogs: MyHoncho Blog | Boolean21 RC Blog
Youtube: SGCrawlers RC Channel | BooleanRC Video Channel
Facebook: SGCrawlers FB Page  | Boolean21 FB Page
Instagram: http://instagram.com/SGCrawlers
Twitter: http://twitter.com/SGCrawlers
Crawler




Posts

: 5027


Join date

: 2011-08-18


Location

: Deep inside the Jungle



Ok, the photos are now showing up for me.

The ESC connector is actually Deans (T-connector).
The battery/charger connector is Tamiya.

I'd recommend to change the battery/charger to Deans; or change all of them to XT60.
Crawler




Posts

: 877


Join date

: 2012-05-21





Similar topics
---
Permissions in this forum:
You
cannot
reply to topics in this forum