Dear all, this thread will document my build up of a new cab for a second hand chassis.

Prelude, to give a little background info on this new rig and myself.

This rig was previously offered as an "RTR" on this forum.

I accepted the offer at $350 without much of a thorough check as the seller was in a hurry.

Upon checking the rig, I was astounded to find what was included.

Roller chassis (with motor)
Esc( not an issue to install), two unknown brand of receivers for planes/helis and Spektrum DX5e with broken attenna
Battery: non compatible Traxxas 7 cell 3000mah*2 (how can it fit the kit? in it's 7! not 6 cells!)
Body: Broken, and corroded by a strong solvent with missing parts and panels. (beyond repair as compared to what was qouted "needs repainting and reassembly" or needs "sanding" It was beyond repair.

Upon raising this matter and asking for a return of his goods, the seller or his friend(whom he claims to be selling on his behalf) in their last ditch attempt to seal the deal decided to cover my cost of acquiring a new body set(RRP at Stargek $190 with required paint costing another $90 to $120). So on that basis, I reluctantly accepted the offer.

Two days later, I was told that his friend changed his mind and refuse to cover my cost of rebuilding the body. In that circumstance, the seller said he would rebate me himself, forking out a $50 refund. I had no choice but to accept it as any further correspondence with him ended there and then as he made the refund.

And here I am today, with a truck to build with a sour taste in my mouth after this bad experience.

Hope this sharing helps any new guys be more wary of inethical practices when making purchases online. And always check check check!

Whoever's responsible, I will bear no grudges and move on from this day forth.
For this rebuild I searched high and low on the net and realised that Tamiya only release a complete body set for the Scania R620. And no complete sets for any of its other truck models.
Checking with Stargek, they told me they dont have the full body set for the R470. Hence I decided to go with a R620 body and do a slight conversion or adaptation.
Comparing the online prices, both online + shipping and Stargek's R620 kit would both cost about a $180.
Stargek retails at $190. But in order to build up the R470, I would need a the H parts tree for the R470 instead of the R620 kit, costing $24.
After the Yr End promo of 20%, I got my body panels all ready at about $170.
Online retails cheapest at USD$90+ up to $140. Including shipping of about USD$20+, that would make the cost less favourable than through our local agent.
The H parts tree is for the side skirts or middle fenders ( whichever you call it). That was only of the parts that were different.
The second set of parts needed for the R470 were the rear mudguards.
The single axle mudguard were mounted differently as compared to the R620.
Other than that and the grille number, this kit obviously comes with the R620. But its fine, I think I could make do with that, a R620 4x2 truck.
I think there might be such a variant but I didnt check, the only thing Im sure of is that there are lots of R470 6x4 instead of the 4x2.
Just a quick trivia: The Letter prefix denotes the type of truck cab while the numbers represents the horsepower of the engine. As of today, the engines start from 500BHP onwards.
up/http://www3.scania.com/en/New-V8-truck-range/Line-up/
So...its fine, I'll go ahead with the R620 logo, who doesnt like more horsepower to it badge right? 

$100 of Paint! and the new body kit $190 worth.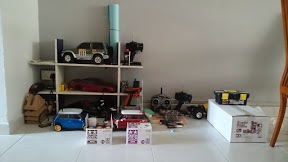 Priming! I did 10-15+ coats of primer used up only 1 180ml Tamiya white primer.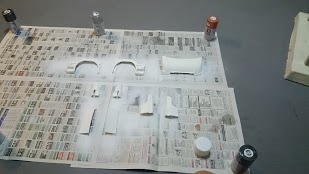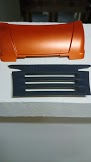 Spoiler and front grille in Rubber Black!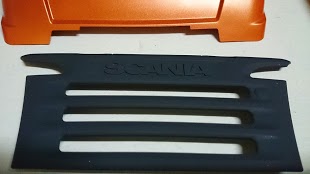 Panels paint with the base colour, Limited Edition Metallic Orange! 2 and a half cans used so far.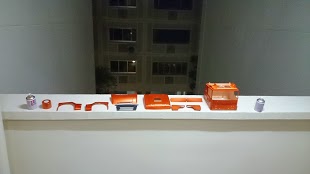 Still awaiting the next step of painting the remaining parts with Rubber black(Windows sections, side mirrors, roof gutters, side skirts(maybe orange) and rear fender(reusing the old kit's after I strip of the paint))
Gonna give the paint a good couple of days to settle in with the primer and the body shells.
sad to hear about your bad experience....

but glad to see that your scania is coming along nicely!

any updates on the build?

pics pics pics!


_________________
My Blogs: MyHoncho Blog | Boolean21 RC Blog
Youtube: SGCrawlers RC Channel | BooleanRC Video Channel
Facebook: SGCrawlers FB Page  | Boolean21 FB Page
Instagram: http://instagram.com/SGCrawlers
Twitter: http://twitter.com/SGCrawlers
Crawler




Posts

: 5028


Join date

: 2011-08-18


Location

: Deep inside the Jungle





Similar topics
---
Permissions in this forum:
You
cannot
reply to topics in this forum